October 2020 AHPA Newsbrief
Message from the President:
This is an exciting and busy time of year for AHPA, as we wrap up our activities for 2020, and begin earnestly planning and implementing our activities for 2021. Your board members are:
working hard to plan all the final details of the Pre-course (see below for especially important information)
finalizing plans for our new AHPA OnlineEd programming for next year (more information to come soon)
and gearing up for our annual membership drive which starts November 1st.
As we head towards the end of this unusual year, let us reflect on our successes and resilience as individuals and as an organization. Nominations for both the Clinical Innovation Award and the Lifetime Achievement Award are due soon.
This newsletter contains glimpses of the many activities our board, our members and partner organizations are undertaking. Remember to stay connected with us through our website, Facebook, and twitter accounts. If you have time and passion to spare, we would love to hear from you.
Stay safe, stay well, and stay kind.
Anne MacLeod
president@ahpa.caYou are receiving this AHPA newsbrief because you are on our AHPA membership list. If you would like to unsubscribe or update your subscription preferences please follow the links at the bottom of the newsletter.

________________________________________________________________________
2021 Virtual Pre-Course
The AHPA Lifetime Achievement Award
2020 AHPA Clinical Innovation Award
The Arthritis Program (TAP) Closure
2020 AHPA Pre-Course Notes: CollaboRAtion: An Interprofessional Dialogue on the Role of Current and Novel JAK
Inhibitors in Optimizing RA Patient Care (Dr Phillip Baer, Jill Hall, Meaghan McKenna & Linda Wilhelm)
Our Online Presence
Recent Articles and Online Resources: Nonoperative Treatment of Osteoporotic Compression Fractures
____________________________________________________________________________
2021 Virtual Pre-Course
Planning for the Arthritis Health Professions Association (AHPA) Pre-Course being held virtually in February 2021 in conjunction with the Canadian Rheumatology Association Annual Scientific Meeting is underway! The Pre-Course will be held over the 3 weeks prior to the ASM. Mark these dates in your calendar:
Tuesday, February 2, 2021, 7:00 – 9:00 pm EST
Tuesday, February 9, 2021, 11:00 am – 1:00 pm EST
Tuesday, February 16, 2021, 7:00 – 9:00 pm EST
Watch for further details in the next month!
PLUS:
Given these extraordinary times, we would like to extend to our members a special offer for 2021 as thanks for renewing their AHPA membership for 2021. As part of our efforts to remain a sustainable organization, our plan had been to start charging a registration fee for the AHPA Pre-Course in 2021. We are pleased to extend complimentary registration for the 2021 Virtual Pre-Course to all 2021 members. (Please note that CRA/AHPA ASM Registration is separate from the Pre-Course.) In addition, your certificate of completion for the 2021 Pre-Course can be used for a discount on your 2022 Pre-Course Registration!
Remember, you must be a current AHPA member in order to register for the Pre-Course or the ASM, so make sure you renew your membership in November
_______________________________________________________________________
The AHPA Lifetime Achievement Award
The AHPA Lifetime Achievement Award honours a current AHPA member who has made a significant contribution during his/her work career in the areas of:
clinical practice
research
education
academics and/or
administration
This award is given to an individual who has demonstrated excellence through such characteristics as mentorship, initiative, quality, innovation, leadership, enthusiasm, and ongoing commitment in the area of Rheumatology.

Please consider submitting a nomination letter on behalf of a deserving colleague. A nomination letter should include the following information:
A description of the achievements that would warrant this candidate being given a lifetime achievement award.
Consideration of how the candidate has brought honour to the profession throughout his/her career lifetime.
How this candidate has modelled mentorship, innovation, enthusiasm, and ongoing commitment in arthritis care.
Why this candidate is deserving of an AHPA Lifetime Achievement Award
A copy of the candidate's current CV.
The deadline for submission is November 30, 2020, at midnight EST. Award will be presented virtually in 2021.

Please forward your submission to membership@ahpa.ca


___________________________________________________________________
2020 AHPA Clinical Innovation Award

The AHPA Clinical Innovation Award was created to recognize AHPA members who have designed and implemented an innovative clinical project or related initiative that benefits the lives of Canadians living with arthritis. This award will showcase clinical initiatives, including those that assess, treat, educate or otherwise support people living with arthritis in new and innovative ways.

Click here to download the Application Form and Grading Rubric

Eligibility
We invite allied health professional AHPA members who have undertaken within the past 5 years a clinical project or related initiative with relevance to the field of rheumatology to submit an application. Projects should be beyond the concept or proposal stage and applicants are asked to provide early/initial or final results in the form of process and/or outcome measures/data to show the impact of their initiative on the target group. Clinicians can self-nominate or AHPA members and non-members can also nominate an AHPA member with that member's permission. The award is intended for non-physician health professionals. This award is non-renewable and recipients may only receive the award once.
Nomination and application process

The applicant should submit the following application form that requests project summary information, including the project title, key words, aim or purpose, target audience, overview of initiative or project, and any evaluation results. The project summary should be single spaced using 12 point font and 1 inch margins and be 250 words or less. You may use ONE diagram/flowchart/visual to support your application. The deadline for applications is midnight (EST) on Friday, December 4th, 2020. The submission may be sent by e-mail, or regular post to:

Sameer Chunara
Chair, AHPA Professional and Career Development Committee
c/o St George Physiotherapy Clinic
180 Bloor St West, Suite 1202
Toronto, ON
M5S 2V6
Email: professionaldevelopment@ahpa.ca

A decision will be announced by Thursday, December 24th, 2020 and the award will be presented at the AHPA AGM during the 2021 CRA/AHPA meeting to be held virtually. The Clinical Innovation Award winner and the details of the innovation will be written up in the AHPA News Brief and on the AHPA web site. The successful candidate will also be required to present their clinical innovation at one of the AHPA-sponsored workshops at the Canadian Rheumatology Association Annual Scientific Meeting the following year. In order to assist in the dissemination of innovative ideas, all project titles, and applicant's names and email addresses will also be listed on the AHPA web site.

Selection process and award
Applications meeting the basic criteria will be reviewed by a committee with the following representatives: an AHPA board member, an Arthritis Society staff member, a person living with arthritis and a rheumatologist. The top rated application, based on clinical merit, creativity and potential significance to the field, will receive:
· $250 award in the form of a cheque
· Acknowledgement of your award and project at the 2021 CRA/AHPA Annual General Meeting.
For more information about this award, contact:
Sameer Chunara
Chair, AHPA Professional and Career Development Committee
Email: professionaldevelopment@ahpa.ca
____________________________________________________________________________
The Arthritis Program (TAP) Closure
We are devastated to learn about the upcoming closure of The Arthritis Program at Southlake Regional Health Centre in Ontario. On behalf of AHPA, a letter has been sent urging Southlake Regional Health Centre to reconsider this closure.
The Arthritis Program (TAP) has had a longstanding relationship with the AHPA. Since our inception, many of TAP's team members have served on the Board of Directors, on advisory boards, as speakers, presenters, participants, and advisors. The program's tagline "A Regional Program… a National Resource", is exemplified by the program's innovative interprofessional model of care which has been an inspiration for what can be accomplished with dedicated clinicians given the opportunity to collaborate.
_______________________________________________________________________________________________
2020 AHPA Pre-Course Notes
Thank you to Kristin Dillon* and Karen Gordon* for sharing their notes from the 2020 AHPA Pre-Course
CollaboRAtion: An Interprofessional Dialogue on the Role of Current and Novel JAK Inhibitors in Optimizing RA Patient Care (Dr Phillip Baer, Jill Hall, Meaghan McKenna & Linda Wilhelm)
Sustained remission is the goal of treatment in RA but only 20-40% achieve this;
Unmet needs in RA: ongoing pain and severe fatigue, reduced QoL
MTX remains anchor drug
Comorbidities are becoming more of a focus: heart, lung disease, venous thromboembolism.
JAK- Stat pathway/ mechanism of action:
Jaks occur in pairs. Jak 1 and 2 pairing associated with IL6. When the Jak's are activated they can release cytokines which cause inflammation.
Biologics are proteins that specifically target cytokines or cytokine receptors.
Small molecules: selective when targeting Jak molecules:
Tofacitinib Jak 1-3 (+/- MTX)
Baricitinib Jak ½ (+/- MTX
Upadacitinib jak1 (mono or combo therapy)

(newly approved in Canada for RA since Dec 2019)
Convenient (oral) and fast - may see results within weeks
Jak inhibitors are now considered first-line therapy.
Remission is defined in different ways: CDAI, Boolean, DAS28
Jak's not recommended in pregnancy. Paternal exposure not as serious as a concern. CVD risk activity may be addressed by lifestyle recommendations, caution with NSAIDs, steroids kept to a minimum, antihypertensives and statins may be used as in the general population.
Safety: No statistical risk of serious infection on Jak inhibitors vs Placebo but vaccines needed as there is still risk of infection such as for Shingles and Hepatitis and TB screening)
Monitor lipids, LFT, CBC, renal function; Avoid / use caution with screen for previous thrombosis
Drug interactions: Avoid cyclosporine, azathioprine.
Long term follow up no evidence of increased frequency of malignancy and Jak's.
Important to engage the client's during the assessment so they know what you are looking for and understand the different variables.
______________________________________________________
Our Online Presence
_______________________________________________________________________________________________
Recent Articles and Online Resources
Nonoperative Treatment of Osteoporotic Compression Fractures
OVERVIEW
Osteoporosis and osteoporotic vertebral compression fractures are commonly encountered clinical problems. The definition of osteoporosis is diminished bone density measuring 2.5 standard deviations below the average bone density of healthy, 25-year-old, same-sex members of the population. In the United States, approximately 35% of women older than 65 years have osteoporosis.
Vertebral compression fracture (seen in the image below) is the most common complication of osteoporosis. More than 700,000 new vertebral compression fractures occur every year in the United States alone, accounting for more than 100,000 hospital admissions and resulting in close to $1.5 billion in annual costs.
Go to Osteoporosis and Pediatric Osteoporosis for more complete information on this topic.
Most patients experiencing an osteoporotic vertebral compression fracture remain asymptomatic or minimally symptomatic; however, a large number of these patients do experience significant pain, resulting in decreased quality of life and disability. Conventional medical treatment for these patients includes pain medication, activity limitation, physical therapy, and (possibly) bracing. [1, 2]
Patients with osteoporotic vertebral compression fractures are usually treated nonoperatively.
Types of vertebral compression fractures
Vertebral compression fractures characteristically demonstrate a wedge-shaped pattern (seen in the images below) with gross collapse of the anterior portion of the vertebral body and relative preservation of the posterior body height.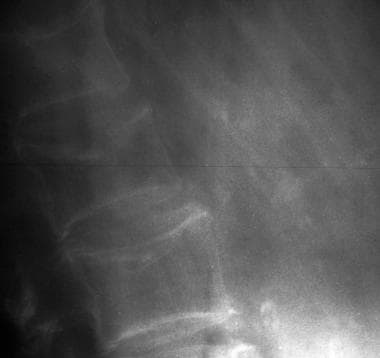 Osteoporotic spine. Note the considerable reduction in overall bone density and the lateral wedge fracture of L2.
A second common form of fracture is a central crush fracture, which frequently occurs in the lower lumbar spine. Increased interpedicular space, involvement of the posterior cortex, or laminar fracture suggest a burst fracture (seen in the image below), which may be unstable.
Etiology of osteoporotic compression fractures
Cortical and trabecular bone loss, as well as disruption of the microarchitecture of bone, are all typical of osteoporosis. Spinal flexion and axial compression have been shown to place maximal stress on the superior endplate of the vertebral body. The asymmetry of the vertebral body produces maximal stress at the anterior aspect of the cortical shell.
A combination of these factors, that is, decreased, asymmetrical, and irregular bone density, is a hallmark of osteoporotic bone loss. Coupled with even minimal flexion and/or axial loading, these factors predispose the osteoporotic vertebrae to wedge-shaped compression fractures, acquired kyphosis, and general height loss.
Once 1 vertebral compression fracture has occurred, a biomechanical environment is created that favors additional fractures. This occurs as a result of the vertebral compression fracture causing an additional kyphosis, shifting the patient's center of gravity anteriorly and producing a longer moment arm. This longer moment arm increases kyphotic angulation and places additional stress on the vertebrae, particularly the vertebrae adjacent to the primary fracture.
Progressive kyphosis, additional fractures, and neurologic changes are potential complications of osteoporotic compression fractures. These complications can be minimized with appropriate, expeditious care.
All vertebral compression fractures require a systematic examination to rule out an underlying systemic illness, such as malignancy, infection, or renal or liver disease
______________________________________________________________
Next Newsbrief Deadline
Please email us at
info@rheum.ca
if you have any questions.
The deadline for the November/December 2020 newsbrief will be November 18, 2020. Please send any contributions to Denise Jupp at communications@ahpa.ca. We are particularly interested in notices of conferences or workshops, new resources for patients or health professionals and summaries of recent research/publications. We welcome contributions from members from all parts of the country.
_________________________________________________________________________________________