2016 May AHPA Newsbrief
You are receiving this AHPA newsbrief because you are on our AHPA membership list. If you would like to unsubscribe or update your subscription preferences please follow the links at the bottom of the newsletter.
AHPA Extraordinary Service Award
ACPAC Program 2016-2017
Job Opportunity for Occupational and Physiotherapist
Upcoming Courses and Conferences
Recent Articles and Online Resources
_____________________________________________________

Extraordinary Service Award
The AHPA Extraordinary Service Award is awarded annually to an AHPA Member who has demonstrated exceptional leadership in advancing the mission, vision, and goals of our organization. Rashmi Mandhane was presented with this award at the 2016 AHPA/CRA Annual Scientific Meeting in Lake Louise, Alberta on February 19, 2016. Rashmi has served on the Board of Directors of AHPA since 2012, initially as the Prairie Provinces Representative for 2 years, then Member-at-Large for Western Canada for another two years. Since our Annual General Meeting in 2016, she has added the Treasurer portfolio to her AHPA Member-at-Large Western Canada duties. Her many achievements include her excellent leadership, development and implementation of AHPA's new website which launched successfully on target and on budget November 1, 2015. In addition, Rashmi has been instrumental in her advocacy for our organization throughout Western Canada.
Rashmi Mandhane is a clinical physical therapist (PT) at the University of Alberta Hospital. With over 10 years of work experience in rheumatology, she has worked in Ontario with The Arthritis Society and with the University Health Network. Currently, she works with Edmonton area rheumatologists in providing services to Albertans with inflammatory arthritis. Rashmi is involved in group patient education and treatment programs for people with rheumatoid arthritis and ankylosing spondylitis. In 2015 she completed the Advanced Practitioner in Arthritis Care Program (ACPAC) from the University of Toronto. Rashmi teaches the rheumatology curriculum for the physical therapy students at the University of Alberta and is helping to implement improved access to rheumatology services through her participation on the Arthritis Working Group of the Alberta Health Services Bone and Joint Health Strategic Clinical Network. She volunteers, at a National level, as a Director of the Board of the Arthritis Health Professions Association. Rashmi lives in Edmonton with her husband and two daughters. She has grown to love Alberta winters by taking up downhill skiing in her fourth decade. This also allows her to keep up with her daughters!
Congratulations Rashmi on this well deserved award!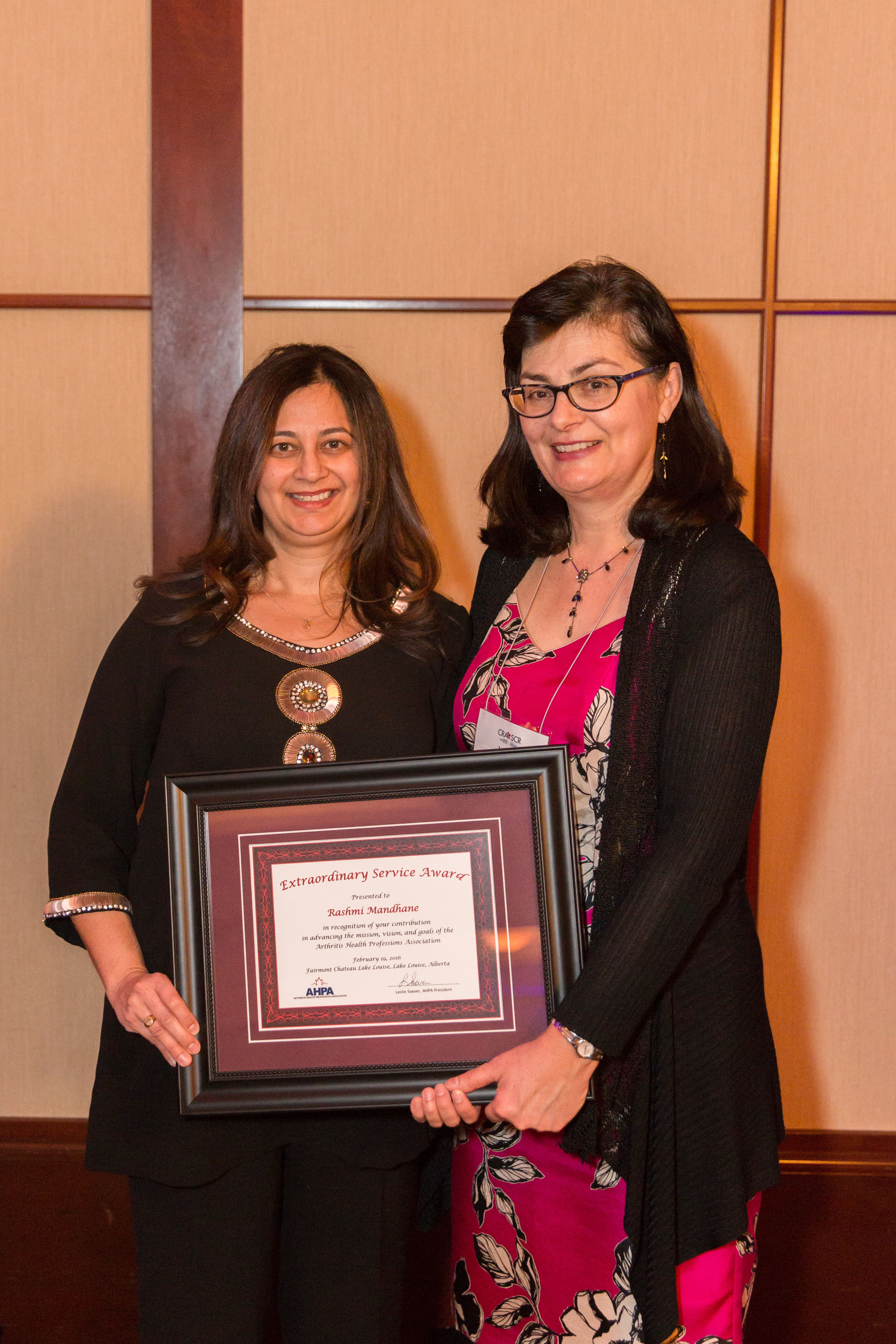 ACPAC Program 2016-2017
The Advanced Clinician Practitioner in Arthritis Care (ACPAC) Program is pleased to announce that applications for the 2016-2017 program are now open.
Offered through the Office of Continuing Professional Development at the University of Toronto, ACPAC is an award-winning clinical-academic program that prepares experienced Physiotherapists, Occupational Therapists, and Nurses from across Canada for extended practice roles, including the diagnosis and management of patients with arthritis.
ACPAC graduates have been recognized at the local, provincial, national, and international level for providing:
Improved access to quality arthritis care
Reduced clinic wait times and improved triage for arthritis patients
Enhanced continuum of care for arthritis patients
The program runs from October 2016 to June 2017. Deadline to apply is Friday May 20, 2016 at 5pm ET.
For more information contact connect@acpacprogram.ca or visit http://acpacprogram.ca/about-the-program/register/
Job Opportunity for Occupational Therapist or Physiotherapist in Ontario
The Arthritis Society is currently looking for an occupational therapist or physiotherapist to work on a contract basis in the Windsor/Chatham-Kent regions. The closing date for applications is May 31, 2016. Please see the following link for more details.
https://www.ahpa.ca/events/announcements/
___________________________________________________________________________________
Upcoming Courses and Conferences
Ontario Rheumatology Association 15th annual Conference
Date: May 27-29 2016
Location: JW Marriott The Rousseau Muskoka, Ontario
Cost: $200-$300
Click on website below for more information:
http://ontariorheum.ca/events/ora-15th-annual-meeting
Principles of Assessment and Management of Pain in the Older Adult
Date: Sunday, May 29, 2016 Time: 8:30 am – 4:30 pm
Location: Victoria Convention Centre, Sidney Room
Eligibility: Physiotherapists, Other Health Professionals
Pre-requisites: None
Speaker: Eric Thériault
Upon completion of this workshop participants will be able to:
Describe factors impacting pain perception and how these can affect acute pain or contribute to persistent pain
Identify the consequences of under recognized and

unmanaged

pain in older adults.
Demonstrate and apply aspects of assessment unique to successful evaluation of pain in older adults.
Recognize

pathophysiologic

changes of aging which complicate management of pain in older adults.
Develop

multi

-modal strategies for management of common pain disorders in older adults.
CBT Immersion - Cognitive Behaviour Therapy
All health care professionals address behaviour change in their clinical practice. This course is a unique, condensed course on the principles of CBT training to be used within the scope of non-mental health practitioners to help facilitate behaviour change in their patients. This course is offered in partnership between Wilfrid Laurier University Faculty of Social Work Professional Development and Qualia Counselling Services Inc.
Dates: Jan. 29, 30, 31 2016 & Nov. 4, 5, 6, 2016 (Course duration is over 2 weekends)
Hours: 9:30 a.m. to 5 p.m.
Location: Wilfrid Laurier University 130 King St. West, Toronto
Cost: $1,599 after December 1, 2015
(textbooks, parking, lunch and accommodations not included)
TO REGISTER: call 519-884-0710 ext. 5265 or online at www.wlu.ca/fswpd
2016 National Fall Prevention Conference
This Conference will bring together experts from across Canada and around the world to share the latest fall prevention programs, research and updates in fall and injury prevention among older adults.
The conference is an exceptional learning and networking opportunity for those who work with older adults in all settings, including practitioners, researchers and policy makers in the field of seniors' health and injury prevention.
Dates: May 16-17, 2016
Where: Calgary, AB
Host: Injury Prevention Care, University of Alberta, Alberta Health Services
Location: Coast Plaza & Conference Centre - Calgary, AB
Registration Link: http://watchyourstepcanada.com/registration/
Registration Coordinator: Karin Ivand
Registration Coordinator Contact: 647-343-5034 / Karin@bayhousegroup.com
Bone Fit Workshops - Osteoporosis Canada
June 11, 2016
North York, ON
Cost: $200
This evidence-informed exercise training workshop is designed for healthcare professionals & exercise practitioners to provide training on the most appropriate, safe & effective methods to prescribe & progress exercise for people with osteoporosis.
Register for workshops at www.bonefit.ca
___________________________________________________________________________________
Recent Articles and Online Resources
Poverty, Depression, or Lost in Translation? Ethnic and Language Variation in Patient-Reported Outcomes in Rheumatoid Arthritis
Katz, P. P., Barton, J., Trupin, L., Schmajuk, G., Yazdany, J., Ruiz, P. J. and Yelin, E. (2016), Poverty, Depression, or Lost in Translation? Ethnic and Language Variation in Patient-Reported Outcomes in Rheumatoid Arthritis. Arthritis Care Res, 68: 621–628. doi: 10.1002/acr.22748
Objective
Despite advances in therapies, disparities in outcomes have been documented for rheumatoid arthritis (RA) patients for both ethnicity and English language proficiency. The goals of these analyses were to compare differences in RA patient-reported outcomes, by both self-identification of ethnicity and English language proficiency, and to identify factors that might explain differences among groups.
Methods
Data were collected through structured telephone interviews of a longitudinal cohort with physician-diagnosed RA (n = 438); only women were included (n = 335). Three groups were defined based on self-reported ethnicity and English proficiency: white/English (n = 219), Hispanic/English (n = 39), and Hispanic/Spanish (n = 77). Outcomes examined were patient-reported physical functioning, pain, and presence of moderate or severe fatigue. Multivariate regression analyses compared outcomes among groups, adjusting for sociodemographic characteristics, health and disease factors, and depression.
Results
Hispanic/Spanish women had worse function, pain, and fatigue than either English-proficient group. Depression was associated with all outcomes (P < 0.0001), and accounted for greater differentials in scores than ethnicity/language proficiency. In interaction analyses, differences between women who were and were not depressed were greater for Hispanic/English than for Hispanic/Spanish. Nondepressed Hispanic/Spanish scores were significantly worse than nondepressed Hispanic/English, i.e., the impact of depression was less for Hispanic/Spanish women because both depressed and nondepressed women in this group reported worse outcomes. After adjustment for sociodemographic factors and depression, language remained significantly associated with outcomes.
Conclusion
Disparities in patient-reported outcomes may be driven less by ethnicity than by sociodemographic or psychological factors. Measurement instruments that are not culturally appropriate and equivalent may also hamper meaningful analyses of disparities.
Efficacy, Tolerability, and Safety of Cannabinoid Treatments in the Rheumatic Diseases: A Systematic Review of Randomized Controlled Trials
Fitzcharles, M.-A., Ste-Marie, P. A., Häuser, W., Clauw, D. J., Jamal, S., Karsh, J., Landry, T., Leclercq, S., Mcdougall, J. J., Shir, Y., Shojania, K. and Walsh, Z. (2016), Efficacy, Tolerability, and Safety of Cannabinoid Treatments in the Rheumatic Diseases: A Systematic Review of Randomized Controlled Trials. Arthritis Care Res, 68: 681–688. doi: 10.1002/acr.22727
Objective
To assess the efficacy, tolerability, and safety of cannabinoids (phyto- and syntheto-) in the management of rheumatic diseases.
Methods
Multiple databases, including Medline, Embase, and CENTRAL, were searched. Randomized controlled trials with outcomes of pain, sleep, quality of life, tolerability (dropouts due to adverse events), and safety (serious adverse events), with comparison of cannabinoids with any type of control, were included. Study methodology quality was evaluated with the Cochrane risk of bias tool.
Results
In 4 short-term studies comprising 203 patients (58 with rheumatoid arthritis, 71 with fibromyalgia, and 74 with osteoarthritis [OA]), cannabinoids had a statistically significant effect on pain in 2, sleep in 2, and improved quality of life in 1, with the OA study prematurely terminated due to futility. The risk of bias was high for all 3 completed studies. Dizziness, cognitive problems, and drowsiness, as well as nausea, were reported for almost half of the patients. No serious adverse events were reported for cannabinoids during the study duration. No studies of herbal cannabis were identified.
Conclusion
Extremely small sample sizes, short study duration, heterogeneity of rheumatic conditions and products, and absence of studies of herbal cannabis allow for only limited conclusions for the effects of cannabinoids in rheumatic conditions. Pain relief and effect on sleep may have some potential therapeutic benefit, but with considerable mild to moderate adverse events. There is currently insufficient evidence to recommend cannabinoid treatments for management of rheumatic diseases pending further study.
Comparison of Physician-Based and Patient-Based Criteria for the Diagnosis of Fibromyalgia
Wolfe, F., Fitzcharles, M.-A., Goldenberg, D. L., Häuser, W., Katz, R. L., Mease, P. J., Russell, A. S., Jon Russell, I. and Walitt, B. (2016), Comparison of Physician-Based and Patient-Based Criteria for the Diagnosis of Fibromyalgia. Arthritis Care Res, 68: 652–659. doi: 10.1002/acr.22742
Objective
The American College of Rheumatology (ACR) 2010 preliminary fibromyalgia diagnostic criteria require symptom ascertainment by physicians. The 2011 survey or research modified ACR criteria use only patient self-report. We compared physician-based (MD) (2010) and patient-based (PT) (2011) criteria and criteria components to determine the degree of agreement between criteria methodology.
Methods
We studied prospectively collected, previously unreported rheumatology practice data from 514 patients and 30 physicians in the ACR 2010 study. We evaluated the widespread pain index, polysymptomatic distress (PSD) scale, tender point count (TPC), and fibromyalgia diagnosis using 2010 and 2011 rules. Bland-Altman 95% limits of agreement (LOA), kappa statistic, Lin's concordance coefficient, and the area under the receiver operating curve (ROC) were used to measure agreement and discrimination.
Results
MD and PT diagnostic agreement was substantial (83.4%, κ = 0.67). PSD scores differed slightly (12.3 MD, 12.8 PT; P = 0.213). LOA for PSD were −8.5 and 7.7, with bias of −0.42. The TPC was strongly associated with both the MD (r = 0.779) and PT PSD scales (r = 0.702).
Conclusion
There was good agreement in MD and PT fibromyalgia diagnosis and other measures among rheumatology patients. Low bias scores indicate consistent results for physician and patient measures, but large values for LOA indicate many widely discordant pairs. There is acceptable agreement in diagnosis and PSD for research, but insufficient agreement for clinical decisions and diagnosis. We suggest adjudication of symptom data by patients and physicians, as recommended by the 2010 ACR criteria.
Wellocracy.com
Wellocracy is a website that provides impartial, easy-to-understand information on new personal "self-health" technologies like activity trackers, wireless devices and mobile apps. The site has sections on wearable activity devices, activity apps, sleep apps & devices, mood apps, food & calorie apps, heart health apps & devices, connected scales, and healthy habit apps. For example, the wearable activity devices page includes a comparison chart showing the difference in price, features, how the device is worn, how the device is powered, how data can be accessed, how data is uploaded, and how data is displayed. There are also information sheets on each wearable device as well as related articles, such as "Getting the most out of your new activity tracker" and "The method behind the magic: How trackers work". Wellocracy is run by the Center for Connected Health at Partners HealthCare.
Next News Brief Deadline
The deadline for the June newsletter will be May 27th 2016. Please send any contributions to Julia Farquharson at Julia.ahpa@gmail.com. We are particularly interested in notices of conferences or workshops, new resources for patients or health professionals and summaries of recent research/publications. We welcome contributions from members from all parts of the country.