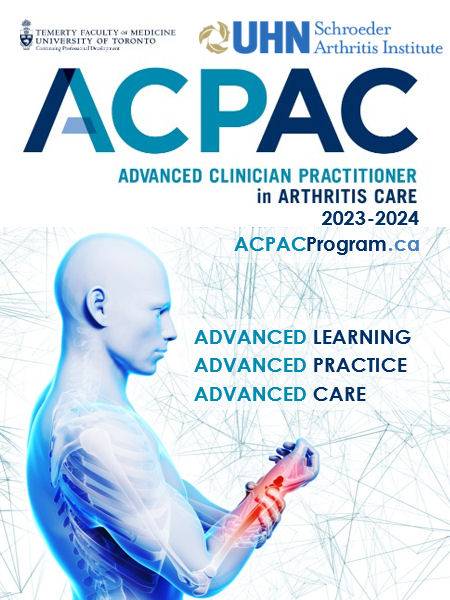 Are you interested in being part of the solution to the current health care crisis for patients with musculoskeletal issues? Consider acquiring additional competencies through enrollment in the Advanced Clinician Practitioner in Arthritis Care (ACPAC) Program.
The Advanced Clinician Practitioner in Arthritis Care (ACPAC) Program is an award-winning clinical-academic competency-based program. It prepares experienced physical therapists, occupational therapists, nurses, and chiropractors from across Canada and beyond for extended practice roles, including the diagnosis and management of patients with arthritis and other musculoskeletal conditions.
The ACPAC program was developed in response to:
A well-recognized need for an enhanced interprofessional approach to care that allows more efficient management of a growing population of patients with arthritis
A progressive decline in number of traditional arthritis care specialists resulting in inappropriate wait times for care
A need to retain and more appropriately utilize existing health professionals with expertise in the musculoskeletal field to improve wait times and efficiency of arthritis care.
ACPAC-trained Extended Role Practitioners are important to the development of innovative models of arthritis and musculoskeletal care in various clinical settings across Canada.
The ACPAC Program is offered through the Office of Continuing Professional Development at the Temerty Faculty of Medicine, University of Toronto, and the Schroeder Arthritis Institute at University Health Network. Delivery format includes 2 weeks in-person and 3 weeks virtual live learning, with interval asynchronous on-line learning and clinical placements. While maintaining the original robust rheumatology content, the curriculum has been expanded to include content enabling roles in emergency departments and primary care. Enrollment is limited to maximize learning from 70+ highly acclaimed faculty, with expertise in orthopaedics, rheumatology, radiology, pharmacology, immunology, laboratory medicine, emergency medicine, and more.

Program Dates:
Week 1:  Oct 16 – Oct 20, 2023 (onsite)
Week 2:  Dec 4 – Dec 8, 2023 (virtual)
Week 3:  Jan 29 – Feb 2, 2024 (virtual)
Week 4:  Apr 8 – Apr 12, 2024 (virtual)
Week 5:  Jun 3 – Jun 7, 2024 (onsite)
Application Deadline:
Applications are now being accepted for the 2023-24 academic year. Deadline for applications is May 31, 2023 – 5:00 PM.
For more information: please visit https://acpacprogram.ca