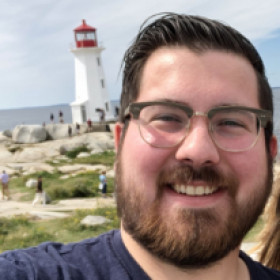 Nikolas Harris
Member at Large - Eastern
Nikolas Harris, BSW, RSW
Nik is a registered social worker in Halifax, Nova Scotia. He graduated in 2016 with his BSW, and is currently completing his MSW Thesis at Dalhousie University. Nik has a personal connection with arthritis, and has been involved in many initiatives through the last several years to improve awareness and patient care.
Nik was a member of the Nova Scotia Government Inflammatory Arthritis Working Group in 2014; a member of the Canadian Delegation at the 11th session of the Conference of States Parties to the Convention on the Rights of Persons with Disabilities (CRPD) at the United Nations in New York in 2018 – presenting at an official side event on childhood disability; and he has spent several summers as a volunteer camp counsellor at Camp JoinTogether, a summer camp in NS for children living with arthritis.
Nik has been an active volunteer with the Arthritis Society since 2012, and officially joined as a staff member in 2018. He is the Community Engagement Coordinator for the Maritimes (NS, NB, PEI) with the Arthritis Society, and is based out of the Halifax office. Nik provides support for individuals in the Maritimes who are living with arthritis, which includes program coordination and development, education events and initiatives, and information support/resource navigation.
Nik has previously worked with the Dalhousie School of Social Work Community Clinic as a Clinic Coordinator, and the Canadian Mental Health Association Halifax-Dartmouth Branch in both Program Coordinator Assistant and Program Facilitator roles.
Nik combines his personal experience and professional knowledge to drive awareness and support to improve the lives of others living with arthritis. He is positioned from a critical (dis)Ability lens, and believes that peer support and person-centred care is of utmost importance.
Nik previously held an interim position with the AHPA board in 2019, and was elected to the board in 2020. He is looking forward to his continued involvement with the AHPA, sharing his knowledge and experience of arthritis to achieve our mission.
Email: easternmember@ahpa.ca